The visits not to be missed
Your bike ride from La Roque-Gageac to Domme
France has many places that can make interesting vacation destinations. The Dordogne department is a great place to stay. There are many things to see and do in this department of the Nouvelle-Aquitaine region. To admire the most beautiful things the Dordogne has to offer, its visitors will be able to go on beautiful bike rides. These bike rides through the department will be a great way to have fun while getting some physical activity.
The village of
La Roque-Gageac
The Dordogne is on the list of French departments that offer beautiful prospects of discovery to vacationers. The department in question was created during the French Revolution, on March 4, 1790. The Dordogne is an ideal place to admire some of the most beautiful landscapes in the whole of France. The village of La Roque-Gageac which is located at the foot of a cliff in the department is a must for a getaway in Dordogne. The place is especially known for the beauty of its natural landscapes.
The singularity of the general aspect of the village with its semi-troglodyte houses and its exotic garden, makes all the charm of La Roque-Gageac. Cycling enthusiasts will be delighted to find that they can enjoy interesting views along the way. The city of La Roque-Gageac is a must on the list of visits to make during a stay in the Dordogne. To include the village in the Dordogne cycling itinerary and enjoy the getaway, find help with organizing your stay here.
The Hanging Gardens of
Marqueyssac
Cycling in the middle of nature is undoubtedly one of the best activities to do on a vacation in France. The Dordogne offers its visitors a beautiful and unforgettable journey through the Hanging Gardens of Marqueyssac. It's a place that's practically worth a visit, especially for those who appreciate breathtaking scenery.
Spread over about 6 kilometers of promenades lined with some 150,000 hundred-year-old hand-trimmed boxwoods, the gardens are spectacular. Visitors on two wheels will be able to take breaks during their bike ride and enjoy the playgrounds and water features scattered throughout the Marqueyssac hanging gardens.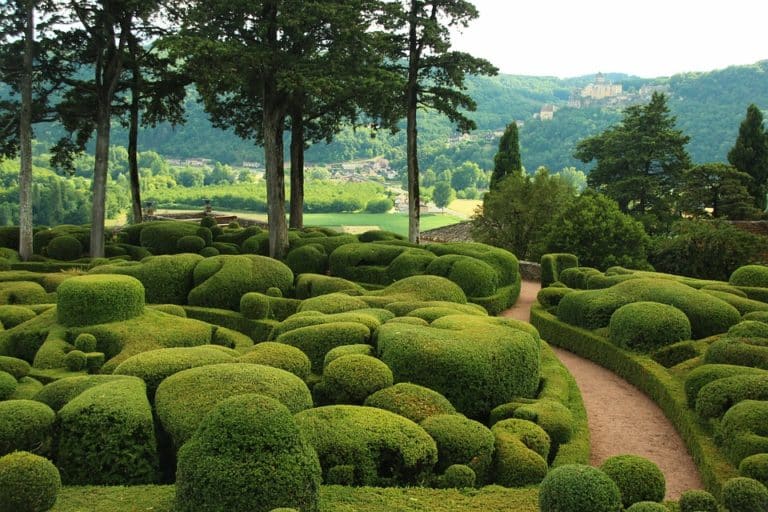 The commune of
Domme and its attractions
A charming commune in the French department of Dordogne, Domme is an ancient medieval bastide. Included in the ranks of the association "Les Plus Beaux Villages de France", Domme is perched on a cliff 210 meters high. The commune is known for its gastronomy, offering culinary specialties prepared with local products from Domme.
On the other hand, Domme is a great place for cycling. Hikers will have the privilege of enjoying a breathtaking view of the Dordogne valley. Along the way, visitors can enjoy relaxing activities such as canoeing and hot air ballooning.
Discover also the other news of our 4 stars campsite in Dordogne
Overview
Camping 4* Moulin de Paulhiac
Our accommodations
Camping 4* Moulin de Paulhiac
Contact
Camping 4* Moulin de Paulhiac
Camping Le Moulin de Paulhiac
24250 Daglan